Workshop for Lawyers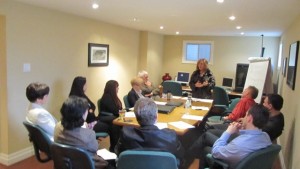 Vittoria is a member of the Peel Halton Collaborative Practice Group http://peelcollaborative.com/. Vittoria is a Life & Divorce Coach, Mediator and Relationship Expert. Vittoria has been trained by Sharon Strand Ellison to be a trainer of the PNDC model.
During the training workshop, family professionals, financial professionals and lawyers, will learn about the costs of using the "Rules of War" as the basis for how we talk to each other in both professional and personal relationships. For lawyers, who are involved in litigation, adversarial relationships are part and parcel of everyday life. At the same time, the cost of litigation has become so high resulting in more and more self represented individuals being in court. The cost of litigation also includes the cost to clients, both financially and emotionally. And, for litigation counsel the cost is sometimes so high it contributes to burn out. For those professionals including lawyers who are involved in the collaborative process, traditional communication methods can often make facilitating conflict resolution exceedingly difficult and be counterproductive.
Participants will learn about the physiology of defensiveness, and learn new methods for enhancing honest, genuine dialogue, including:
asking disarming questions that get at the heart of an issue quickly,
giving honest feedback while conveying respect rather than judgment,
stating opinions with clarity and power, while creating understanding rather than polarizing parties, and
creating boundaries that increase respect and accountability.
Professionals in every field will leave with skills that can be used immediately to transform interactions with individuals and families in crisis, as well as with other professionals.
This program has been accredited by the Law Society for 6 Professionalism Hours
This program has been accredited by the Law Society for 6 New Member CPD Hours
Workshop for Financial Services Professionals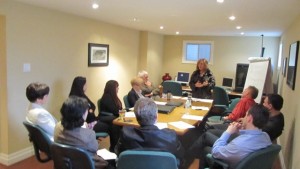 Financial advisors, whether working in major institutions, small businesses, or independently, are often in the position of advising clients who have unrealistic ideas about what is possible in terms of achieving their financially related goals, and thus, may be resistant to advice. This is true regardless of the financial realm, which may be investment, business or personal loans, tax issues, retirement planning, wills, trusts, or financial issues related to divorce. In many cases, conflicts between couples or among business partners may add additional layers of conflict, defensiveness, and power struggle. Having non-defensive communication skills can give financial advisors vital tools needed to move past conflict and empower clients to make wise decisions.
For those who work in larger financial institutions, the cost of poor communication is also high in terms of employee relationships, job satisfaction, performance and retention. In Vittoria Adhami's training programs, she clearly outlines the dynamics of defensiveness and then presents methods of communication that can be used to diffuse power struggles, whether subtle or blatant. While financial planners do not necessarily have a background in communication, the skills presented will give options for (a) asking questions that get at underlying issues, (b) giving feedback so that clients feel respected and listen, (c) stating opinions clearly without getting bogged down trying to convince clients of the wisdom of the advice, and (d) setting clear boundaries so clients take more accountability and make increasingly competent decisions.
Using these skills, financial planners can guide clients in a decision making process that will bring them the best benefit, while honoring their value systems. In the short and long run, the client relationships work more smoothly and clients are more likely to respect the wisdom of the financial advisor, creating good word of mouth advertizing.
Workshop for Parents/Family
As parents, the love and responsibility we feel can make us afraid about how to make the best decisions for our children—and how much to expect of them. Many parents currently are making a huge effort to communicate effectively and create a family life where children and teens are motivated to be cooperative, rather than coerced. Sadly, in far too many cases, parents try to get cooperation without setting clear boundaries. Then when they don't get the response they want, they either give up or express frustration with the child, sometimes indirectly, other times directly, with periodic anger, blame and/or orders.
Using traditional communication methods, parents tend to chose, sometimes moment by moment, between being supportive and exerting some kind of control over the child's behavior and attitude. Despite best efforts, parents can end up being defensive and in power struggle with their children at almost any age. To create an environment where children are responsive, competent, respectful, appreciative, and above all, genuinely happy, requires a delicate balance.
A major part of the problem is that we've used the "rules of war" as the basis for verbal interactions. Beliefs deeply rooted in the War Model for communication not only result in some parents choosing to be authoritarian, they also motivate others—in an effort to be democratic and more cooperative—to go to the other extreme and become too permissive. Probably the majority of parents fluctuate between the two. All of these uses of authority can impact the child's character by inhibiting the development of emotional, intellectual, and ethical maturity, and/or behavioral competence.
Parents, foster parents, kinship providers, and others who work with children can learn Powerful Non-Defensive Communication, a new system that offers tools for simultaneously and consistently expressing love within the context of clear boundaries. Participants will learn four specific, detailed skill sets:
Limit Setting: How to shift form with not setting clear limits and/or setting limits that make children and teens feel punished—to setting limits that prompt children to take accountability and develop the ability to become reciprocal
Questions: How to shift from asking questions that make young people feel interrogated—to asking disarming questions that get at the heart of an issue quickly.
Statements – Giving Feedback: How to shift from giving feedback in ways that are indirect or judgmental—to a three-part process that prompts children and teens to be more likely to listen, even perhaps seek advice.
Statements – Self-Expression: How to shift from expressing your own thoughts, feelings and beliefs in ways that make young people feel lectured—to ways that create bonds of understanding.
Professionals in every field will leave with skills that can be used immediately to transform interactions with individuals and families in crisis, as well as with other professionals.
This program has been accredited by the Law Society for 6 Professionalism Hours
This program has been accredited by the Law Society for 6 New Member CPD Hours
Workshop for Couples
In long-term relationships, it can be a struggle to maintain the kind of intimacy that often draws people together in the beginning. Independence is often lost as well, for one or both parties. When a couple has children, the stress on the relationship becomes intensified. In order for a relationship to mature without losing its joy and passion, both intimacy and independence must become, if anything, stronger, rather than weaker.
In Powerful Non-Defensive Communication workshops couples can learn how traditional communication methods damage the potential for creating relationships that thrive. You can learn how to maintain openness and vulnerability even during hard times when trust may be damaged, as well as how to set boundaries that maintain both independence and self-esteem.
Traditional communication is build on the "rules of war," so defensiveness is our primary self-protective response. Most people have also learned that to be open and vulnerable requires trust first. When you love someone deeply and anything happens to damage trust, the wounds can go deep, quickly. Then, showing vulnerability isn't considered "safe" and the defenses can come up instantly. Far from protecting, it creates a kind of alienation that can become increasingly pervasive in the relationship.
Our common ways of communicating also increase the likelihood that one or both parties in a relationship will start out trying to "please" each other, setting a precedent for not having clear boundaries. Trade-offs happen, where both parties give up core needs. Each person can end up feeling both betrayed and controlled by the other to varying degrees. If couples can work through disagreement or crisis in ways that actually strengthen trust, the relationship can mature with love that deepens over time. Learning Powerful Non-Defensive Communication skills can give couples the tools they need to show vulnerability balanced by integrity in setting clear boundaries. This process allows couples to be genuinely reciprocal. Each person can fulfill her or his potential, while achieving profound intimacy as a couple
Workshop for Community Organizations
Click here to read a full letter of recommendation from Mario Calla, Executive Director, COSTI Immigration Services.
Organizations that support our communities are the lifeblood of the community, whether they offer environments for networking and building businesses, seeking spiritual growth, mentoring young people, providing resources for those in need, creating social change, and/or providing entertainment. Unfortunately, community organizations can be torn apart by internal strife. Beyond that, informal groups as well as organized ones with different values and goals can be in varying degrees of conflict with each other. The degree to which community organizations and sub-cultures can not only live in peace together, but build on each other's strength will determine the vitality of the community as a whole. Using non-defensive communication is vital to such community building, within and among organizations.
Vittoria Adhami demonstrates how traditional communication methods, across lines of race, class and culture, have been built on the "rules of war," so people get defensive instantly when they feel misunderstood, negated, criticized or "under attack" in any way. Essentially, the very way we communicate systematically creates and accelerates conflict. Whether we react passively or aggressively, our defensive reactions lead directly to power struggle. Using these traditional methods for communication, we have shaped human interactions at all levels— personal, professional, and in our local and global communities. Now that we are living in communities that are increasingly diverse, this old system of communication leads quickly to polarization of individuals and groups with cultures needs and/or cultures.
In Vittoria Adhami's keynotes, public speeches, workshops, and training programs, you will learn Powerful Non-Defensive Communication, a new paradigm for listening and speaking in ways that can eliminate defensiveness . Using the skills learned, people in community together can practice the kind of genuine dialogue where individuals can speak honestly and take accountability. This kind of dialogue is a foundation for building bridges of understanding, creating strong bonds across lines of difference, and achieving the kind of creative problem-solving that makes community organizations strong and flexible. This, in turn adds strength to the community as a whole. You will learn to:
Ask questions that get at the heart of an issue quickly and prompt others to respond sincerely and openly,
Give honest feedback without conveying judgment so others are more willing to listen,
Express opinions clearly and strongly while building bridges of understanding, and
Set boundaries that increase competence reciprocity and mutual respect.
Beyond simply learning isolated communication "techniques," participants will have an opportunity to change habitual mind-sets that keep us locked into defensive patterns as well as leaving with skills they can use immediately to engage in genuine, spontaneous, heartfelt conversations.
Workshop for Spiritual Communities
Our spiritual growth is deeply impacted by how we communicate. Traditional methods of communication can block our potential for "walking our talk" —i.e., living out our ethics in our intimate and professional relationships, as well as in community. You can learn how to have internal dialogues that balance self-acceptance with self-examination. You can gain skills for expressing your beliefs passionately, without judgment, honoring each person's humanity.
In this presentation, you will learn about how the physiology of defensiveness impacts all of us. You'll then have an opportunity to learn how we can use power in our interactions in new ways, more in keeping with our spiritual beliefs.
Participants will then learn Powerful Non-Defensive Communication skills for
asking questions that get quickly to the core of a matter,
giving honest feedback that creates stronger relationships,
having different opinions and beliefs without being adversarial, and
creating boundaries that enhance respect and reciprocity.
You will learn how to interact with others without getting defensive no matter how they respond. Vittoria uses story to weave together the principles, as well as role-play and practice in longer sessions.
Learning these skills can give people in spiritual communities the ability to be both honest and compassionate with each other. Others often drop their own defenses in response, so the process is contagious. The skills are a potent tool for creating justice, for healing the violence that has pervaded human history. If we use a different paradigm for language, we can maximize our potential for creating strong spiritual communities that contribute to making peace a contagious process.